Bradley Manning stripped, left naked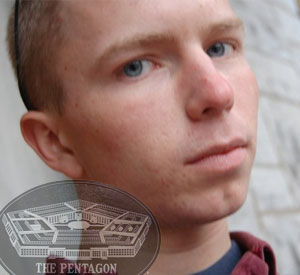 Private First Class Bradley Manning, in detention at United States Marine Corps Base Quantico Brig in Virginia, was forced to strip naked on the evening of March 2nd, 2011, left naked in his cell all night and forced to stand at attention for the facility's five a.m. wake-up call, according to his legal representative, US Army Court Martial specialist, David E. Coombs.
Coombs posted a report earlier today on his website announcing the humiliating and degrading treatment his client was forced to endure. Coombs added that Manning has been warned that he will endure the same treatment again this evening, and posted this commentary:
This type of degrading treatment is inexcusable and without justification.  It is an embarrassment to our military justice system and should not be tolerated.
Coombs also posted a response today to statements made by Pentagon press secretary Geoff Morrell. Morrell implied he had personally visited Manning's cell at the Quantico brig to confirm his treatment there, that Manning was not held "away from others" and "is allowed to have conversations with others in the corridor" outside his cell, and that his treatment is "for his own good."
The US Army Criminal Investigation Division Command (CID) announced 22 additional charges against Manning yesterday, including a violation of Article 104 of the Uniform Code of Military Justice (UCMJ). This specific charge alleges that Manning violated Article 104 by knowingly giving "intelligence to the enemy, through indirect means." Such a violation is a capital offense, punishable by death.
According to the original US Army News Service press release from Fort McNair, D.C., the US prosecution team will not recommend the death penalty to the convening authority in Manning's court martial, Maj. Gen. Karl R. Horst, commanding general, U.S. Army Military District of Washington.
Jon Shelburne, professor of law at Rhode Island's Roger Williams University, views the new charges as an attempt to put additional pressure on Manning to agree to some sort of plea deal. The military has again stated that Manning's court martial is delayed until the completion of an inquiry into Manning's mental health. Shelburne's views were published by Los Angeles Times bureau reporter David S. Cloud.
Manning's Treatment a Result of Army CIDC Charges
Despite protestations to the contrary, it is obvious that Bradley Manning is being subjected to torturous confinement conditions. There is no record of Manning being a difficult prisoner. Coombs said today:
Given his "exemplary" behavior and the fact he is not considered at risk for self-harm, the confinement conditions appear to be based solely on the nature of the charges.
The Bradley Manning Support Network urges you to take action now to help save Bradley Manning's life.
Hon. Mr. John M. McHugh
Secretary of the Army
101 Army Pentagon, Rm. 3E560
Washington DC 20310-0101

General George W. Casey, Jr.
Chief of Staff of the Army
101 Army Pentagon, Rm. 3E672
Washington DC 20310-0200