Campaign Staff
The Private Manning Support Network is a grassroots effort involving thousands of people and organizations around the world advocating for the freedom of WikiLeaks whistle-blower PVT Chelsea Manning, by raising money for her legal fees, promoting public education, and organizing creative actions to gain media attention and influence our officials. While there are many volunteers whose efforts are crucial to making the Private Manning Support Network successful, below are the core staff whose daily work advocating for PVT Manning keep the nuts and bolts of the Network turning: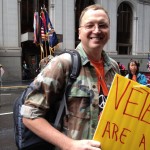 Jeff Paterson, Courage to Resist Project Director – In August 1990, Marine artilleryman Corporal Jeff Paterson became the first of many US military personnel to refuse to fight in Iraq. Today, Jeff is the project director of Courage to Resist, an Oakland-based organization dedicated to supporting GI war resisters and conscientious objectors. Courage to Resist hosts the Bradley Manning Defense Fund in collaboration with the Private Manning Support Network. Jeff is also a steering committee member of the Private Manning Support Network.

Emma Cape, Campaign Organizer - Emma has been Lead Campaign Organizer for the Bradley Manning Support Network since February of 2011.  She has helped to organize actions and events to demonstrate support for PVT Manning with people in many communities.  She coordinated actions in 70 communities worldwide on February 23, 2013, in protest of Bradley's 1000th day jailed before trial.  Emma began her career in activism by organizing fellow high school students against the invasion of Iraq in 2003.  After studying Anthropology and social movements at Bowdoin College, she has worked on a number of grassroots political campaigns fighting for human rights and environmental protections. 
Owen Wiltshire, Internet Services Manager – Owen is a passionate information activist. Before joining the Private Manning Support Network, he worked as a web developer and later completed a masters degree in Anthropology at Concordia University where his research focused on the political economy of academic publishing. His ongoing research into the areas of anthropology and hacktivism, along with his work at the Private Manning Support Network, have since brought the issues of imperialism, security, and foreign policy to the fore. He writes, scripts, and codes, while frequently struggling to reduce long essays into perfectly formed 140 character sentences.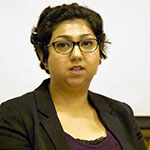 Farah Muhsin Al Mousawi, Campaign Support – Farah was born and raised in Iraq. She has been living in the United States since 2008. Farah joined the Iraqi Student Project in 2007 and is a member of the Civilian Soldier Alliance. This year she is the recipient of the Martin Luther King Junior award presented by the Human Rights Commission in Marin County. Farah recently graduated with a degree in Political Science from Dominican University and currently is an administrative assistant to Citizens Reach Out and works as a website developer for the Arab American Cultural Center in Silicon Valley translating interviews of Iraqi refugees.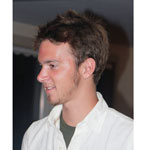 Nathan Fuller, Media Liaison and Court Reporter- Nathan is a New Jersey based writer, editor, and activist. He studied Documentary Film and Journalism at the College of New Jersey, where he edited a political news magazine. He was active in anti-war, LGBT, and social justice efforts for several years before becoming an avid supporter of PVT Manning, as well as WikiLeaks. He believes the material PVT Manning is credited with releasing warrants all the support we can provide. Nathan creates and edits campaign materials, and assists with national special events.
Additional campaign support staff members are responsible for accounting and "Stand with Brad" petition processing.
To learn more about how you can become part of our Network, please check out suggested actions or contact us about volunteering in our Oakland, CA office.