Bradley Manning supporters face judge for attempting to lay flowers outside Quantico marine base
November 7, 2011. Bradley Manning Support Network.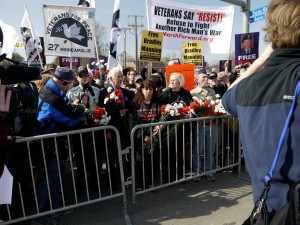 Four supporters of accused WikiLeaks whistle-blower PFC Bradley Manning appeared today before a judge in Manassas, Virginia, to face charges stemming from their arrests in March outside of a Marine military brig in Quantico, Virginia. These supporters were arrested along with many others who are outraged at the abusive confinement conditions to which PFC Manning was subjected during the eight months he was held at the Quantico Pre-Trial Confinement Facility. They were detained after military officials reneged on their offer to allow flowers to be placed at an Iwo Jima Memorial located at the entrance to the base.
Among those arrested attempting to lay flowers were veterans and family members of veterans, including Daniel Ellsberg, the "Pentagon Papers" whistle-blower. Instead of accepting their charges and paying fines, these four supporters pleaded not-guilty and chose to assert their First Amendment rights inside the courtroom.
Speaking before her scheduled appearance today, retired U.S. Army Colonel Ann Wright explained why she felt obliged to speak out:
"I felt the pre-trial conditions of solitary confinement and nudity that PFC Bradley Manning was subjected to in the Quantico brig for many months were outrageous and that public action by veterans and citizens to show their concern for the rights of this soldier was necessary."
Following sustained public pressure, Bradley Manning was moved to a military prison in Fort Leavenworth, Kansas. He is no longer being held in solitary confinement. Military officials have denied speculation that the recent announcement of the impending closure of the confinement facility at Quantico was a result of widespread condemnation of the mistreatment.
Circuit Court Judge Mary Grace O'Brien dismissed the charge against Col. Wright of "remaining at place of riot or unlawful assembly after warning to disperse," finding insufficient evidence. Various minor traffic-related charges were upheld against the other three defendants. The defendants testified that they were compelled to directly petition the Quantico military detention center, because PFC Manning was being subjected to severe mistreatment in violation of his constitutional rights and international standards of human rights.
The Commonwealth Attorney, arguing on behalf of the state, claimed that the defendants should be found guilty because they were engaging in civil disobedience.  Drawing parallels to the civil rights movement, the Commonwealth Attorney argued that the defendants should accept their punishments instead of challenging them.  Speaking in his own defense, Mr Obuszewski, a long-time peace and justice activist from Baltimore, Maryland, clarified that the demonstrators at Quantico were engaging in "civil resistance" and not "civil disobedience."  He noted that civil disobedience typically refers to deliberately breaking a law that one considers to be unjust, and that they found nothing inherently unjust about the normal application of traffic laws.  Civil resistance, on the other hand, entails the use of direct action to challenge unjust abuses of power. Demonstrators had engaged in civil resistance by shutting down the entrance to the Marine base for several hours.
In announcing her findings, Justice O'Brien concurred that the case "does bring in larger questions" about the motivations of the demonstrators.  Although she agreed that these larger issues are relevant, she felt that they "would not be appropriate for me to consider."
The guilty parties were each ordered to pay fifteen dollars in fines and court costs.