What Can I Do?
I'm just one person, what can I do to help save Bradley Manning?
Our network is made up of people as well as organizations. Even if you are all on your own, there are many ways you can reach out in your community and beyond.  Below are ideas about ways you can get involved, in brief.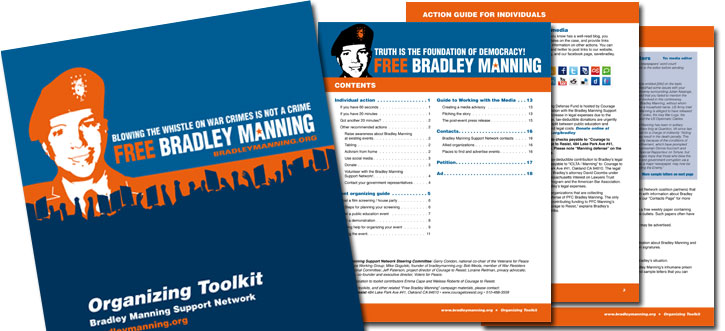 For more information, please check out our activist toolkit.
If you're interested in volunteering directly with the Bradley Manning Support Network, click here.
How you can help Bradley Manning:
If you have 60 seconds
Sign the petition to free Bradley Manning at www.standwithbrad.org.
Please take five more minutes to e-mail the petition to friends, neighbors, and other members of your organization.


If you have 5 minutes
Visit iam.bradleymanning.org to join our photo petition. You will need simply: 1 digital camera, 1 piece of paper or cardboard, 1 pen or marker


If you have 20 minutes
The "convening authority" of Bradley's court martial will have the final say as to if he will face the death penalty at trial. Simply stated, write to tell him, "Do not try to kill Bradley."
Maj. Gen. Karl R. Horst Commander
US Army Military Dist. of Washington
1400 Defense Pentagon
Washington DC 20301


When you are ready to become a leader in the movement to Free Bradley:
Help Plan an Event!
Planning an event is a good way to educate community members, enlist other volunteers to take action, gather signatures for the free Bradley petition, and raise funds for the Defense Fund.  The kind of event you choose to organize depends on the amount of time you can dedicate to event organizing and promotion.  Recommended kinds of events include screenings of the Collateral Murder video, public speaking events, and organized protests. We want to organize demonstrations in major cities nationwide corresponding with Bradley's upcoming court dates. If you are interested in organizing an event, please contact
emma@couragetoresist.org.
Host a dinner party fundraiser!
With the military pushing the trial dates farther out into the future, fundraising has become an especially critical component to maintaining our movement. One way you can both help out with public education efforts AND raise money for the Bradley Manning Defense Fund, is to host a dinner party. You can go here to learn more and get materials that make hosting an event simple.


Other ideas!
Talk to acquaintances and speak out at meetings of an organization you are already a part of. Write letters to the editors of your local newspapers to help raise awareness about Bradley's inhumane prison conditions and the questionable nature of his charges. Write letters to your congressional representatives and the President voicing your support of Bradley and calling for an immediate end to his inhumane prison treatment.  Use Social Media. You can blog updates on the case, and provide links to the petitions and actions. You can also use facebook, twitter, and other social media sites to post links to our website and our facebook page, savebradley.  Sign up for our e-newsletter (2-3 per month) at couragetoresist.org for the most current updates.
Together, we can make a difference.